By Ron Simonson, President and CEO, CCI Solutions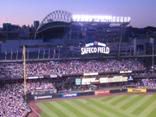 If you've ever had the privilege to see a professional sporting event, or to watch a major celebrity perform in concert, you know that there's nothing more aggravating than spending big-bucks on a ticket to attend an event that you never actually get to hear. Guess what? During my career I've attended events at colleges and minor league stadiums that have had marvelous sound systems, and I have also had the regrettable pleasure of attending events at so called "first-class" venues where the sound systems seemed like something from generations past. The good news is that the sponsors of most of these events and concerts are finally starting to catch on! That's why so many stadiums have invested in the latest sound system technology-to ensure that people just like you are able to enjoy the show they came to see!
Football fans, basketball fans, and anyone that has ever tried to watch the halftime show at the Super Bowl understand how important world-class sound systems are to the quality of the contemporary sporting event experience.
 Good arena and stadium audio technology has to:
Bring thunderous sound to the ears of the listeners sitting up in the nosebleed section-they deserve to enjoy the show too!
Have musical impact that rivals the best home theater systems, only to tens of thousands of fans all at the same time.
Provide clear, impactful and intelligible speech to every seat in the arena, ballpark or stadium.  If you need to ask your seatmate what the announer said 20 times a game, then you really are not enjoying yourself.  Let team management know it is time for them to maintain or upgrade their sound system!
How do you pick great stadium technology? If you're the person in charge of making the decisions when the time comes to replace and/or upgrade the stadium sound system technology in your stadium, there are a couple of things you can look for to make sure you're getting high quality technology at a reasonable price. First and foremost, make sure the company you are buying from has a good reputation. The selected vendor should have acoustical engineers and consultants capable of helping you and your architects envision the right solution from the get go. Moreover, they should be licensed contractors who can handle the design-build process and see it through to the finish line. Lastly, the selected vendor shouldn't be cutting their teeth on your project. Make sure they have plenty of referencable projects under their belt.
Finally, be sure their prices measure up. You get what you pay for, but there's no reason to break the bank on your stadium sound system. A world-class design-build contractor will provide you with cost-plus contracts and GMP (guaranteed maximum price) contracts to help you manage your costs.  With a little bit of time, effort, and research you should be able to find a high quality stadium sound system that is well within your budget and that will allow you to enjoy  the best in audio and video technology available on the market for your stadium sound.